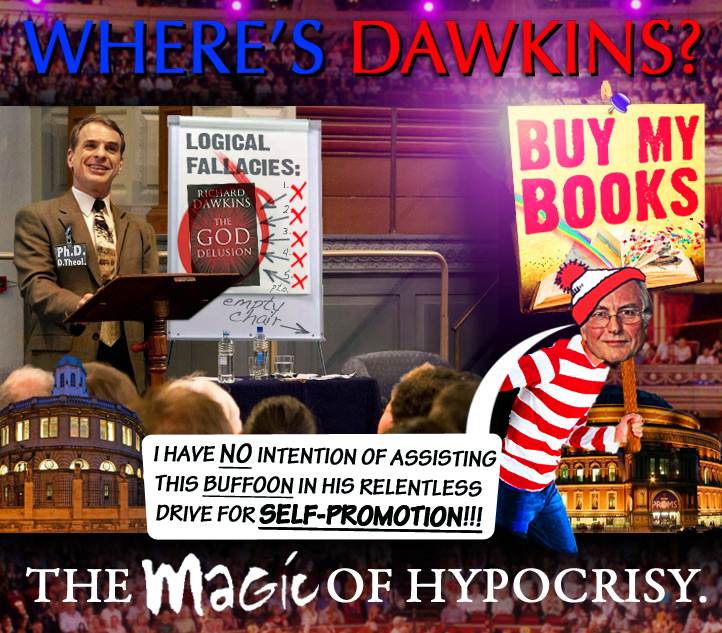 World-famous atheist Richard Dawkins has given, I've counted, about 10 excuses for not defending his 2.5 million+ bestselling book The God Delusion against world-leading Christian Philosopher William Lane Craig, who tours the UK from October 17th.
He resists despite the fact that a fellow atheist from Oxford University has accused him of cowardice*; not to mention the latest news that Craig's critique of The God Delusion will actually be hosted by another atheist academic from Oxford (whom he will have debated just 4 days prior) in front of a panel of skeptics (from Oxford) and that 4/5 of Craig's debate opponents will be from... Oxford (the other one's Cambridge, so I guess we can let that slip for not quite cutting the intellectual mustard).
And Dawkins' latest excuse is truly unbelievable: "I have no intention of assisting Craig in his relentless drive for self-promotion." (Telegraph)
Pause to consider, for a moment:
1) Craig has not sought to debate Dawkins. He's responded to invitations from independent organisations who have tried to set this up - in fact he's never set up a single debate, himself, in his life!
2) Best of all, Dawkins will actually be spending October... self-promoting! He'll be charging around the country and in TV studios plugging his new book The Magic of Reality: How We Know What's Really True! In fact, Dawkins will be promoting it in the Royal Albert Hall on October 19th, while Craig is in Cambridge delivering a lecture on Stephen Hawking's The Grand Design.
Dawkins has no fear sharing the Sheldonian Theatre with
members of the "in-group" (atheist author Sam Harris)
Dawkins' calendar, on his website, indicates that October 25th (the night of Dawkins' challenge to fill Oxford Sheldonian Theatre's empty debating chair) is free for him. It also, however, mentions a movie-screening in New York, so one hopes Dawkins isn't planning on fleeing the country!
To top it all off, while Dawkins' record of academic responses to Craig's arguments remains precisely zero, he's found plenty of time to hurl insults at Craig on his website, including "ponderous buffoon" and that his logic is used to "bamboozle his faith-head audience". Isn't that the wrong way round? Shouldn't this "faith-head" be hate-mailing him? At this rate, might we even find Dawkins making irrational arguments (or is that just a silly question)?
So, there you have it. Rather than share his stage, Dawkins prefers to stage his shares. Rather than engage in an academic exchange and critique of his published work, he'd rather you just "buy" his arguments (on faith)?
Call it irony, hypocrisy, whatever you want... it's certainly not "bright".